Source of Image: https://upload.wikimedia.org/
Salve!
Today, our discussion is going to surround the notion of identity and a religious blog call thelastingsupper.com. But, first and foremost, we must understand that t
he identity of oneself is not always based on our own choices as it also involves external influences from our surroundings, such as our social norms and cultural factors

,

which are guided by social construction.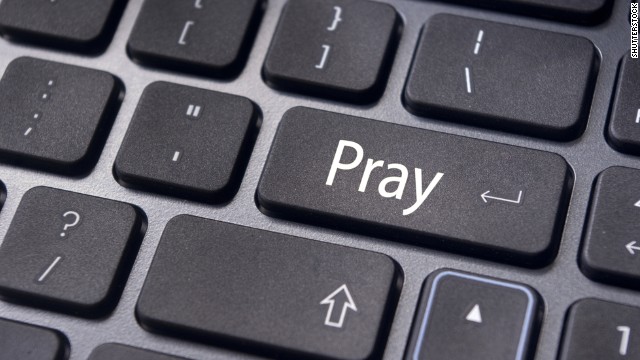 Source of Image: http://i2.cdn.turner.com/
Along with the increasing connectivity between one another through the use of new communication technology such as computer-mediated communication (CMC), the impact upon the construction of identity is indeed being led towards a new dimension without the restriction of geographical boundaries. Moreover, all available social media in the cyber world such as blogs and open online forum discussion comprises "
a set of social and technical affordances that have the potential to affect the ability to reshape how individuals view themselves and others" (Ellison, 2013, p. 2). The same can be said for our religious identity.
According to Bell (1965), Castells has discussed a virtual community in the aspect of the social group's culture in his book - The Power of Identity. The culture within new media community has created another way of life and worldview which could be resistant to dominant political institution or capitalism. Besides that, Castells' fundamental idea of identity formation in the network society furt

her explained that,
new technologies can offer new channels both for the collaborative construction of communal identities beyond territories, as well as the means by which such identities organize and act upon their demands (

as cited in Siapera, 2012,

p. 1

74).
Thus, users of the internet have the ability to construct an identity of themselves (Bell, 1965). Castells has reviewed that the identity is constructed by the society and thus various kind of identity are formed, namely, "legitimizing identity, resistant identity and project identity" (Bell, 1965, p. 56). Legitimizing identity is defined as the conventional idea of the nationalist and the rights according to the rules and regulation in the society (Bell, 1965). On the other hand, resistant identity refers to the religion ideology with a strict understanding of theology and principles (Bell, 1965). As for project identity, it possesses a parallel meaning as Giddens' idea whereby new media enables the changing of self-identity which reflects one identity in such project that functions continually (Bell, 1965).
In this case, the concept of project identity is related to the instance of
thelastingsupper.com
blog created by David Hayward. This blog allows his members, who are mostly from Christian groups, with different ideology either against the fundamental spirituality or supports other unrelated religious group in order to voice out their opinion in the blog (Bell, 1965). As such, through this platform and the ideology of respecting different variation, especially those who struggles due to the contradiction of the Christian spiritual and reality lives, a new media community's support is formulated in this project identity (Bell, 1965). In relation to that, this religious blogging phenomenon as explicated by Giddens is due to the nature of modernity that shapes one's identity. This kind of identity is being referred to as modern identity that is not similar with traditional religious identity in terms of the practicing dogma and beliefs as mentioned by Giddens (1991).
The Blog: thelastingsupper.com
Source of image: thelastingsupper.com
Created by David Hayward in 2012, the above image shows the

main page

from the Blogspot of thelastingsupper.com.

The Lasting Supper is primarily addressed to the religious as well as non-religious members. Though most of its members are Atheist and Christians who have deviated from the scriptural understanding due to their experiences of reality lives which contradict with the Holy Bible or at least what the traditional pastor taught us. Thus, some have decided to a certain extent, not to be part of any Christian religious tradition group as due to certain reasons that are said to be related to the Christian scriptures and or members of the church. The blog is also targeted to accommodate non-Christians who wish to understand and engage in the lives related to Christians and those who have problems in lives which are not necessarily related to the Christian religion. In other words, it is a religious and spiritual "sanctuary" for Christians and non-Christians alike.
In order to be part of the group, people can just sign up as a member to be included in the group's discussion. During the process of obtaining membership, those member-to-be have to give their actual names and personal details. However, they can decide on their "nicknames, usernames, passwords and avatars" as well as choosing the level of disclosure of their personal identities at the site (Hayward, 2015). After that, those who are accepted as members are required to make a payment to The Lasting Supper via Paypal or Credit Card (Hayward, 2015). Despite that, members who face with financial incapability can be a member official as well under specific conditions.
Within this secret group, each member has to agree with the statements written under "Rights and Responsibilities" of the services as presented inside the blog. This included values that require people to respect other's freedom to interpret and construct an idea based on their personal experience and interpretation. Moreover, members' privacy are also being protected carefully, in which a member has the choice to choose whether or not to share his/her profile picture with another person in the group. Thus, members are given the autonomies to decide the level of secrecy in regards to the disclosure of their personal details.
The benefit of being a member in this blog is that members could get together and express their thought and feelings without being opposed or looked down by those who disagree with them because those who have entered this blog have to adhere to the rules and rights as listed by the blog's administrator. As for an instance when there is any violation of rights or rules has occurred, actions will be taken towards the abusive member, such as disabling the account. An ever more serious action towards the post which violates further the minimal underlying freedom of speech as listed in the blog's "Right and Responsibilities", that particular member would face membership termination through email notification. Besides that, complaints can be made if one found that other's comment is offensive and inappropriate by emailing to the blog's administration.
All in all, even though The Lasting Supper is not a fully embraced Christian group blog space, majority members from Christan has illustrated their formulation of identity through social media. It lies in accordance with Castells' explanation of project identity in relation to the blog, whereupon the blog has created a space in the cyber world to connect people, disregarding geographical restriction, which thus provide a platform to organize their identity and meeting their needs, such as obtaining support from members of the group, as presented in cyber world instead of the real world.
Before we part, here's a video from the nakedpastor himself.
References
Bell, D. (1965). Cyberculture theorists: Manuel Castells and Donna Haraway. New York,
Ellison, N. (2013). Future identities: Changing identities in the UK – the next 10 years.
Retrieved from https://www.gov.uk/government/uploads/system/uploads/attachment_data/file/275752/13-505-social-media-and-identity.pdf
Giddens, A. (1991). Modernity and self-identity: Self and society in the late modern age.
Stanford, CA: Stanford University Press.
Siapera, E. (2012).

Understanding new media. California: Sage.